Build Anything Visually
Designing a website for a nonprofit isn't an easy task. It should be a lot more than just a pretty site – it should be designed to appeal to your target audience, and it should inspire them to join your cause. The best part is, you know about better about your non-profit that anyone else out there, so why not design your nonprofit's website all by yourself? The Divi Builder is unlike anything you might have ever seen before. With lightning fast reflexes and an incredibly smart and intuitive operational framework, it is the best non-profit or church theme and is your one stop solution for building great all inclusive non-profit or church websites.
Real Time Design
With Divi, you get to see the products of your creation right before your eyes, and without any delays. As soon as you make any changes in your design, you will get to see them taking effect in the actual project. This is editing and modifying at its finest.
Just Click & Type
Whether you're writing verses for your Church website or putting up the remarkable work done by your non-profit – it requires written detail. Divi gives you the flexibility to write without really opening up a separate panel. Simply point at the location and start typing.
 Customize Everything
Each and every element that you include on your website can be customized as per your liking.

Attention to detail is anyway necessary when it comes to designing a page for churches or non-profit organizations. That is why Divi lets you perform operations like adjusting colors, size or spacing and even applying custom CSS.
Responsive Editing
Live responsive previews can be effectively viewed and utilized to make better edits and inch closer to your design goals. Additionally, with the best WP theme for nonprofits or churches, you can make custom changes at specific breakpoints to further aid your design schemes.
Organize With Ease
Addition of new rows may sometimes mess with your content as it may put everything in disarray. Same is the case with the addition of new columns. Fortunately, Divi has distinct mechanisms to prevent this from happening, which let you create best non-profit or church website template insert anything and still maintain your site's organization.
Global Elements
Here's feature that is useful in all manner of websites, no matter which you're building. Divi gives you global elements, which only need to be defined once, and as soon as you update them once, they get updated everywhere that you've used them.
46 Content Elements
Non-profit websites, like any other, may require a vast range of elements to specify each aspect of the page correctly. Divi contains 46 different elements to satisfy each of your designing needs. Never run out of options again with the best non-profit or church WordPress theme.
Import & Export
Church or other nonprofit websites are generally built with a common or similar theme, and the rest of the content is directly positioned as per the set theme. Divi gives you the flexibility to save your layouts for future use, or even download pre-made ones from the internet.
Little to No Loading
With the amount of traffic church websites are accustomed to, it is natural that they need to be fast and have zero loading times. Divi aims to do exactly that. The Divi builder has blazingly fast speeds that eliminate any need for any waiting periods.
Premade Layouts
If you're feeling stuck in your design process, and have absolutely no ideas, to begin with, Divi helps with that too. Simply access the archives Divi provides you with and make use of one of the 20+ layouts that come with the Builder itself to make the best WordPress themes.
The Future of WYSIWYG
In-line Editing
Non-profit websites often have to maintain a lot of records, which leads to a lot of editing later on. Editing is easier than ever before with Divi. All you need to do to add text onto your page is click on the location you want to add it to and start typing. You get to adjust text size and color, change the font style or even apply custom CSS properties.
Draggable Widths
Creating beautiful white space is an absolute necessity for church websites with awesome WordPress themes, as they're mostly about how you present your content rather than the actual nature of the content. Simply use a drag drop WordPress theme to drag your content with their widths or heights to resize or move them.
Customizable UI
When Divi promises customization, it goes to great lengths to ensure you get it. Divi's customizations are practically limitless. You get to adjust each of your screen elements to complement your screen design fully.
Instant Content
Adding or modifying your church's design might be a difficult task, but it isn't so for your church website. Add columns, rows or anything that makes your content look good. Perform operations like cut, delete or duplicate with ease.
Responsive Editing
With so many new nonprofit organizations coming up rapidly, one has to always stay ahead of the curve, which is possible only by embracing the latest tech. Make responsive websites that work extremely well with mobiles as well as tablets with the Divi builder, making Divi a pretty reliable WordPress theme. You don't just get to make adaptable websites but also design individually for each device such that your content always looks its finest.
Drag & Drop
An organization with Divi's drag and drop WordPress theme is as easy as it can be. All you need to do to move your content is drag your elements from the edges and drop them wherever you need them placed. Plus, you get to zoom out on your content to get a better understanding of the positions.
Elements for Every Occasion
Accordion
The accordion module from Divi lets you save a lot of space by combining a lot of elements together. They work really well with the toggle module and are sure to make an easy to use WordPress theme and your page interactive as well as fun to browse.
Audio Player
Playing hymns while your visitors browse your website might just be a game changing idea for a church website. Divi lets you do that with the audio player module, which can play podcasts as well as original songs.
Bar Counters
Recording the number of visitors to your church on any given day might be a good day. An even better idea would be to display these stats on your website with Divi's bar counter. This counter is triggered with lazy loading and makes your page truly engaging.
Blog
Compile all the latest and best news snippets from around the world that focus on the theme you're interested in for your nonprofit website, and let your visitors interactively go through them with Divi's blog module.
Blurb
Let your visitors get familiar with the facilities you offer at your church or nonprofit organization with blurbs. They are combinations of text and images displayed in an attractive manner that is best used for listing out features.
Button
Buttons are used widely in websites for a diverse range of applications. A church website might need them to urge your visitors to keep themselves notified of the church timings. Divi provides you with various forms of buttons that make a flexible WordPress theme and that you can use using the Divi advanced design settings.
Call to Action
This module is primarily used to attract the visitor's attention to a particular area of your page. Say you want to urge your visitors to subscribe to your nonprofit organization's online newsletter; call to action is where you need to put your content in to gain the maximum clicks.
Circle Counters
These circularly shaped pie counters are another fun way of displaying stats to your visitors. Simply set up the data and this module will automatically convert it to a graphical representation which can be conveniently displayed on the page.
Comments
Comments with Divi can be placed anywhere on the page. Normally, you're restricted to place your comments only at the bottom of a post, but Divi doesn't play by those rules, which is why it is the most flexible WordPress theme. You get to design your page the way you want as per your preferred positions for the elements.
Contact Form
A church website must get many questions and queries from its visitors who might be looking to gain information on a diverse set of topics. Divi's contact forms, which can easily be customized in a lot of fun and exciting ways, let you communicate effectively with your users.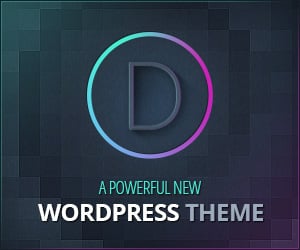 Countdown Timer
Suppose you want to countdown to some big and highly anticipated festival that carries great importance for your church, the best way to inform your visitors of the importance this event carries is to set up a countdown timer that is constantly telling the users how long until the event finally arrives. This is exactly what Divi's timer module does.
Divider
Everything needs room to breathe. If you don't leave enough space in between your various website elements, everything might just start looking cluttered and in a mess. The divider module from Divi, the most trusted WordPress theme, lets you add a little breathing room for each of your elements so that everything looks proper and organized.
Email Optin
With huge consumer bases eager to ask questions, every non-profit website much always some really great email support. Divi gives you collaborations with three major mailing lists and the makers have promised better and bigger collaborations coming soon.
Filterable Portfolio
Portfolios are necessary to inform your visitors if the place they're looking at matches their expected standards of quality or not. Giving your visitors a chance to filter through these portfolios to come across only the data that they are interested in can be an excellent experience implemented effectively in this WordPress, theme maker.
Gallery
Introduce your visitors to your church even before they get a chance actually to visit. Divi's gallery module lets you put up neatly stacked rows of photos that you can use to attract user attention.
Image
With Divi, in combination with the gallery module, you get to add images anywhere on the page. Just select the picture you want to upload, and Divi will position it beautifully on the best WordPress template. All images support lazy loading and come in five distinct animation styles.
Number Counter
Number counters are used to display numerical data engagingly. While ordinary numbers might just skip the user's attention, these animated number counters are sure to grab it tight. These are triggered using lazy loading are a truly innovative way of displaying numbers on the screen.
Person
Let your visitors get to know not just the non-profit organization or church but also the people who work behind the scenes to keep such an establishment functional and running. Divi's page builder templates and the person module lets you write a few lines on each of your crew members and display them on your website along with a photograph so that they get the recognition they deserve.
Portfolio
Portfolios are essential to let your users acquaint themselves with the functioning of the church or major events in the life of the nonprofit organization that you want your visitors to know of. It is also a way to showcase the major milestones in your career and Divi's portfolio module lets you do all of that.
Post Navigation
This module consists of links that take the user forward or backward as per the user's chosen link. These links redirect to the last or next posts with regards to the current one and are a great way of ensuring that the visitor never runs of content to browse through.
Post Slider
Let your posts feature on the top of your page in a beautiful and engaging slider format. These posts can be in the form of blogs implemented with WordPress template designer's blog module and work great to attract the user's attention.
Pricing Table
Create fully functional and useful pricing tables for your page with Divi's pricing table module. Sell your online products such as souvenirs from your non-profit organization by setting up a number of tables, and control the features or pricing for each table individually with the WordPress, theme designer. You even get to feature unique plans for each.
Search
Usually, search bars are limited to either being positioned inside the sidebar or in the footers for each page. Divi, after having let go of these rules, lets you place your search bars anywhere on the page. Let your visitors search anything on your church website with utmost convenience.
Products
Display your products attractively and in a manner which attracts your users with Divi's products module, which lets you not just attach images for each product but also takes care of margins and spacing such that they look organized and neatly spaced.
Sidebar
Sidebars are great for placing content that needs to be highlighted yet may not carry as much importance to occupy the central position on a page. Divi, the best WordPress theme builder, gives you the flexibility to add an unlimited number of widgets in a sidebar.
Slider
Sliders are modules that let you place your content such that it can be browsed through simply with the help of a convenient slider and make for the best WordPress template. They can have varying widths such as big, small or fixed and support parallax as well as full video backgrounds.
Social Follow
Nothing beats social media in this day and age. If it's not on social media, then it's highly unlikely to succeed. Divi recognizes this and lets you put up links to all your social media profiles and pages you've made in the name of the non-profit organization with the social follow module.
Tabs
They're an excellent way to consolidate information when you're running low on space. Simply attach a few of your elements as tabs on the same page using amazing WordPress themes, and you just saved a whole lot of space. Plus it looks super trendy and pleasing to the eyes.
Testimonial
Church websites must have lots of trust among its visitors. This confidence in the church later translates to increased footfall or church visits which further leads to increased popularity and higher recognition.
Text
Text module is essential for obvious reasons. No website is complete without text. The text just by itself can get a little annoying. Divi recognizes this and thus lets you combine text with various other WordPress page template builder modules to make a truly dynamic page.
Toggle
Toggles let you consolidate information and display elements in a fun and interactive manner. Position toggles inside columns of any size to improve user experience and then combine them with the accordion element for convenient usage.
Video
The video module can be placed inside a column of any size and is ideal for showcasing anything from the functioning of your church to live footage of some event held on the premises. Just upload the video or enter the URL and Divi, the most customizable WordPress theme will embed the video onto the page.
Video Slider         
Let your visitors be greeted with not just one, but a collection of videos, all showcasing the amazing work your non-profit has done for the society – presenting a great picture before potential donors. The video slider module incorporates and combines all your videos in a beautiful video slider format that is fun and easy to watch and use.
Header
The header module is one of the most used modules in a website. It is what defines what is really on a particular post, and Divi lets you create beautiful WordPress framework themes and headers of different and unique styles.
A Web Designer's Dream
Divi has a consumer base that is practically endless. There are thousands of web designers and website builders who use Divi every day in their work because it's just so much convenient and fantastic to work with.
An Amazing Community
Perhaps the best part about working with Divi is the amount of amazing and talented people you get to connect with. The Divi community consists of a variety of best WordPress theme designers and other like-minded people who are all highly impressed with Divi and want to share their experiences with others.
A Theme You Can Trust
Eight years is a pretty long time. That is exactly how long Divi has been around for. And through all this time, Divi has managed to stand its ground and maintain its quality. In other fantastic news, Divi's dev team have confirmed that Divi is going to stay operational for a much longer time and it isn't going anywhere anytime soon.
A Theme Clients Love
Who doesn't love simplicity? Divi manages to provide it to the fullest. Clients immediately fall in love with Divi simply because it has customizable WP themes and is so much easier to use than any other website builder and lets them build websites without having to learn the confusing interface WordPress offers.
Control Client Access
With Divi's comprehensive roles system, you are completely in charge of who accesses your content and to what extent. This is essential since the internal files of a non-profit organization are often confidential. No one can gain access to your designs without actually taking the permission from you first which means your designs are safe from getting messed up by unknowing visitors.
Dedicated Support
It's hard to find a more dedicated team of individuals than Divi's support team. Similar to people who work for non-profit organizations without expecting any rewards, this team consists of individuals who are all eager to help the customers and are skilled enough to rectify any underlying problems that a user might face correctly.
Build Unlimited Sites 
A lot of the premium and top WordPress themes ask you to pay up each time you need to create a website, which essentially means you need to purchase additional licenses for each of your websites. Divi doesn't work like that. All you need to do is pay once and enjoy their services for as long as you want.
Customization Options Galore
Let your imagination run wild with Divi's various customizations and WordPress drag and drop themes, all of which can be previewed with the theme customizer.
Tons of Header & Footer Options
Headers are important as they give an identity to all your posts. One look at the header and the user should ideally get a grasp on what the post is all about. For such an important element, Divi gives you a number of customization options with top WordPress premium themes. Choose an alignment style and choose from horizontal or vertical navigation. Adjust colors or transparency options and even switch between different navigation styles.
An Intuitive Theme Options Panel
Divi's theme options panel combines all the customizations and modifications that you can perform on a theme and presents them to you together in a fantastic panel. You get to upload logos or add external scripts along with custom CSS and even experiment with the color palette.
Divi Leads Split Testing
Divi's split testing tools and optimization systems are exactly what you need for proper functioning and high traffic on your church website.
Smart Split Testing
All of your content can double up as split tests to provide you with accurate insights and assumptions that lead you towards your unique goals by tracking user engagement data and traffic stats. Additionally, you get the option to modify your content, change your designs, or alter your positions in order to create awesome WordPress themes and figure out the best combinations.
Powerful Stats & Insights
Divi Leads is a powerful tool that is not just intelligent but also an excellent guide in case you need to make important design decisions. Following these leads will help you with decisions that will greatly enhance your conversion rates and overall success of the website.
Translated Into 32 Languages
With millions of customers across the globe, Divi can't function unless it incorporates support for a lot of other languages apart from English. The makers of Divi realized this and had thus translated Divi into 32 global languages.
Fully Translated Inside & Out
With Divi, you don't just get the front end elements translated. Rather, you get the whole package. It is not just the front end elements that come under the translations that Divi provides, you even get the translated version of the Divi builder interface, and WordPress premium theme, which means building WordPress themes and websites becomes easier than ever before.
Right-to-Left Support
As soon as you enable an RTL language from the Divi dashboard, Divi switches to the RTL mode of operations. This means everything, right from the Divi front end elements to the Divi builder interface goes to RTL mode.
Rock Solid Security
Sucuri.net is an online security firm that takes care of any kind of security compromises in websites and web services and also provides cyber security services themselves. Upon inspection, sucuri.net has found literally zero issues with Divi's security system and WordPress website creator, which means that your site and the content in it are in highly safe hands.